Pupdate
We finally got the sizing figured out to order the boys some Equafleece Dachsie Jumpers, which have them looking smart and keeping warm:
Up North
When I grew up in the North East of England everybody I knew lived at the coast. But over time, friends and family have moved on, which meant my trip this month was my first where I didn't go to the coast at all, because nobody I know lives there any more. It was a bit weird. But also it was nice to catch up with family and friends, and get to see their new places and surroundings.
Snow
My trip up North coincided with the start of a cold snap in the UK. As I was heading for home there were a few light flurries of snow, but nothing too troublesome.
I thought I was escaping to warmer climes down South, but I was very wrong about that, returning home to a few inches of snow (on apparently untreated roads), and accompanying traffic chaos. Getting home from the railway station was NOT the adventure I had planned for my Sunday evening.
New(ish) Laptop – Lenovo X13 Gen 1
I last got a new laptop when I joined CSC over seven years ago, and I've previously written a medium term review of my Lenovo X250, and mentioned the swap over to a replacement when I left DXC. The battery life of the replacement has never been great, and it was starting to feel sluggish, so I felt the time had come for a new machine. Given that the X250 had been so good, and family members have been happy with X270s I've picked up, the natural choice was a Lenovo X13. The Gen 1 machines are starting to show up on eBay at reasonable prices, and when I saw (more than[1]) the spec I wanted for £375 it was an easy decision to hit the Buy button.
So far I've been delighted with the machine. It's slim, solid, light and fast – everything I want from a laptop. Battery life seems OK (but not amazing), but with USB-C charging it will be easy to keep topped up (even if that means using a portable power bank).
My one niggle is that it doesn't have a proper Ethernet port, which means having to buy and carry around a little adaptor from the 'mini RJ45' to something that has a full sized socket. In terms of design trade offs, I'd rather have a proper port, and for the laptop to be a little thicker (with space for a bigger battery).
The most pleasant surprise is that the laptop I received appears to have spent its life in a cupboard, so I've effectively got a new laptop for something like a quarter of the retail price :) After getting things set up with a fresh install of Windows 11 I ran CrystalDiskInfo which reported 26h of run time for the SSD, which I think boils down to:
Corporate buyer gets new laptop, applies asset sticker, and installs standard corporate image. Laptop then goes into cupboard waiting to be issued.
Premium warranty expires, so laptop gets replaced with a new one (Gen 3?) and sent to refurbishers, who install their image.
Laptop shows up at my place, where I immediately do a fresh install of Windows because I want 11 (not 10) and don't trust what the refurbishers might have installed.
IoTSF Award
Normally my work involves sitting at my desk at home doing backroom boy stuff, but this month brought an exception to my normal routine with a trip up to London for the TechWorks Awards & Gala Dinner where I was delighted to collect the Internet of Things Security Foundation (IoTSF) Champion Award on behalf of my Atsign colleagues.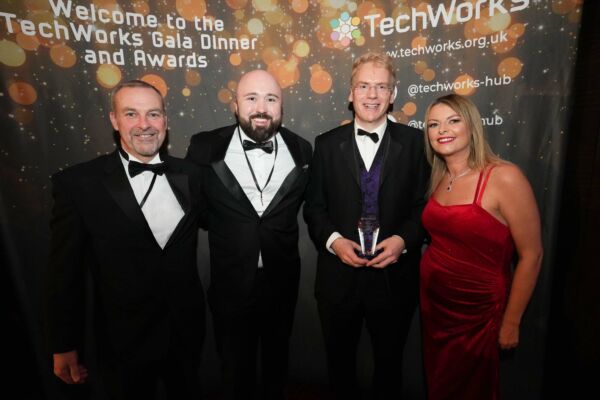 Solar Diary
As expected, the darkest month wasn't the best for generation, with just 84.7kWh:
Also no progress on Smart Export Guarantee payments from EDF, who still seem to be dragging their heels. Not that it matters much when I only exported 16.1kWh (<£1) over the month.
Beating Beat Saber
The bad weather and Christmas break have disrupted my usual exercise routine, so the virtual swords have been out again. I bought the recently released Rock pack, which has some all time classic tracks in it. Some of the levels are tantilisingly close to being all perfect cuts at Expert level, but I'm struggling with others. There's a section near the end of Born to be Wild that's defeated me on both attempts so far that might need some practice runs.
Note
[1] I'd have happily gone with the same spec I've been buying for friends and family for years – i5, 16GB RAM, 1368×768 display. What I got was i7, FHD display, and it even has WWAN (though I've yet to try that with a SIM to see if it's any better than tethering to my phone or iPad).
Filed under: monthly_update
|
Leave a

Comment
Tags:
award
,
Beat Saber
,
IoTSF
,
laptop
,
lenovo
,
North East
,
pupdate
,
snow
,
solar
,
X13
---
---
Subscribe

Search

Raspberry Pi Downloads

Top Posts

Recent Posts

Recent Comments

An error has occurred; the feed is probably down. Try again later.

Blogroll

Categories